BIOMASS/ENERGY UTILISATION
COMBUSTION GASES / REFR/ BIOMASS TOWERS
Although for many sectors it represents a difficult problem to solve, ZEWATECH sees it as an opportunity for the customer to reduce energy costs in different processes of a company.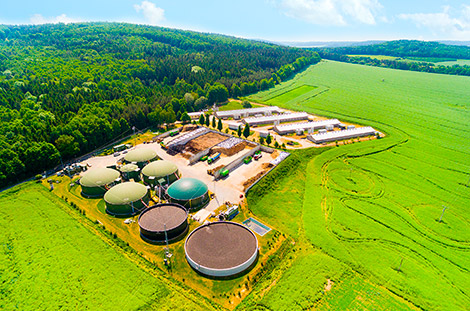 BIOMASS:
The products resulting from surplus organic matter of vegetable or animal origin, can be used as a source of energy for the ZEWATECH process, either as fuel (biomass), whether these are forest: firewood, bark, wood chips, pruning remains or forest masses,…; agricultural: vine pruning, almond trees, nut shells, olive pits and other fruits,… or industrial: remains of wood industries or cork manufacturing.
DECOMPOSITION GASES:
As a second and more important source, taking advantage of the decomposition gases of organic matter as fuel (methanol), the biogas generated can be considered a good fuel, and is useful for combustion and generation of heat and/or electrical energy; one cubic metre of biogas contains the energy equivalent to about 0.6 l of diesel.
COMBUSTIBLE INDUSTRIAL BY-PRODUCTS :
In industrial processes it is possible to mix or design special burners for by-products resulting from the industry, it is always necessary to carry out a very specific study and evaluate the thermal capacity and adaptation to the products to be incinerated.  There are a multitude of products or mixtures such as fuel oil (industrial fuel), diesel oil for ships, acetaldehyde, diethylether, pentane, methanol, acetone, ethanol, propanol, toluene, butanol, paraffin, styrene, turpentine, varnish, enamels, paints…
HEAT RECOVERY IN COMBUSTION GASES OR CHIMNEYS:

The use of waste heat is a significant type of energy saving in many industries. These systems recover this energy by means of heat exchangers and steam, thermal oil or hot water is produced using the heat from the exhaust gases.
LINKS
Legal advertaising
Cookies policy